A nice fat halibut fresh out of SF bay.  Ariel's first legal halibut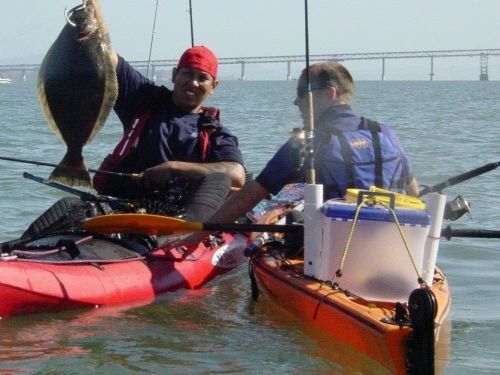 The two pictures below are both from first time kayakers.  Patrick was able to land rockfish and a lingcod on a fly, while Tony managed a 28lb 10oz - near derby winning (beat by a 29lb salmon on the last day) santa cruz halibut.
Thank you for introducing me to a very active and exciting approach to fishing. You really knew the water well and the bite conditions…thanks for the "special" fly! There was lots of action with jaw dropping scenery! I hooked into fish that I had never thought possible on a fly rod.
Thanks again for a great trip.
~patrick
Thanks for the great fishing trip and for the pictures. I still can't believe that fish - or the trip. As much a thrill as that fish was, I have to say that being out there in a kayak really made it - you're really a part of the ocean, right in there with the fish and critters. And I'll never forget the sensation of that big fish pulling or my first sighting of the fish coming up. I'll be in touch - I suppose we'll find out the final outcome of the derby soon. To tell you the truth, it would be nice to win something, but I really don't care - that experience was worth more than money can buy!
Tony